Skateboarding is an enjoyable activity that people engage in during travel. You can use a nice backpack during the skate session or just use it daily to carry your skateboard or longboard.
Hey, you have a beautiful backpack to attach to your skateboard, but you don't know How to Attach Skateboard to Backpack. Depressing, right? No worries! Today we will learn how you carry your skateboard in your backpack.
When traveling, you can link or attach the skateboard to a backpack. Many backpacks or bags have skateboard straps, so you can simply convert a backpack into a skateboard transport system that will be hands-free. By fastening a skateboard to a bag, you can transport it wherever you go. Let's see what the best ways are to attach a skateboard to a backpack.
How to Make Skateboard Straps for Backpack
Making a skateboard backpack is fun when you have the right items. We will see how you can make a backpack for a skateboard.

Start the backpack-making process by allowing a few inches of flexibility. 

After that, you have to wrap a length of string around the center of your skateboard. 

Cut the string perfectly to get the length for your two hook and loop fastening straps. 

Set your backpack strap-side down on a flat surface. 

Your skateboard should be placed on top of the backpack with the trucks facing outward and the grip side facing down. 

The board should be adjusted in a way that seems like the backpack is in the center position. 

Now it's time to place the hook and loop fastener straps on top of the spots that you have marked with the chalk. 

With the help of a needle and thread, attach the straps' hooked sides to the backpack and make sure you leave their looped sides unstitched. 

The hook and loop fastener straps should be raised and brought firmly across the skateboard. Now, connect the hooked and looped parts securely.
DIY Penny Board Backpack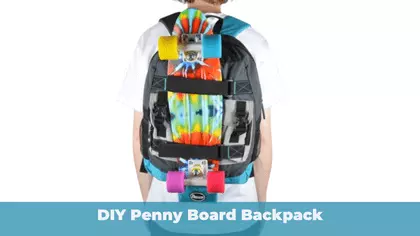 Let's see another DIY Skateboard or Pennyboard Backpack step that will be easy to complete. 
Steps For DIY Skateboard Backpack
Get all the instruments together. 

Mark the areas where you'll make the attachment holes. 

Mark two tiny dots around two centimeters from the board. 

Now, cut the nylon strap and bungee cable. 

The top attachment has to be more flexible. 

Get a DIY hole puncher.

Create two 15-cm-apart holes in the nylon strap. 

Make the holes in the nylon strap when it is flat on a hard surface. 

Put two brass grommets on the holes and make holes in the bag.

 Insert the bungee cord into the bottom attachment and secure the nylon strap.
Best Ways to Attach Skateboard to Backpack
Holding the skateboard while traveling is quite uncomfortable. But how to tie a skateboard to a backpack? Skateboard attachment is quite an effortless task. You can bring a top-notch backpack that will make it simple to attach a skateboard.
We frequently notice that strapping a skateboard to a backpack is the simplest method to transport one. Skateboards can be attached to backpacks in a variety of ways. Consider what would be the easiest way to attach the skateboard while out.
A multitude of ways is waiting for you regarding the attachment of the skateboard to a backpack. We can ensure you won't need any materials or sewing methods.
Attach Skateboard to the Back of Backpack
 Use Strap Adjuster to Attach Skateboard
Generally, most backpacks have adjustable straps. Get a backpack that includes a large-sized strap so that both the skateboard and backpack can fit together. 

Make sure it's firmly attached and cannot move around. 

Also, ensure that the grip tape on the board is facing your padded backpack, not on the back of it. 

You can apply this trick by fastening the strap around the skateboard's top. 

Also, make sure the other end is firmly secured to the backpack. 

No matter where you go, the board will stick with your backpack.
Attach Skateboard Without Strips
The board can also be attached without the use of buckles or straps. 

Simply place your skateboard on the part of your backpack that is strapped to your back in a horizontal position. 

Place your skateboard in a way so that the wheels are facing away from your bag. 

Set the skateboard's smooth bottom and properly attach it to your back. 

Now, detach your shoulder straps and remove your board. 

Make sure that every set of wheels stays outside of the straps. 

Always try to check after attaching. It is necessary to check, otherwise, it might hurt your backside.

Connect the skateboard and bag to your back. 

You can lengthen your bag straps for more comfort. 

And an equal balance should be maintained on each side of the backpack.
Use Lanyard for Skateboard
A lanyard is basically a short length of rope used to hang a badge around your neck. When you don't have any bag strips, you can use a lanyard as a skateboard holder. 

Put the lanyard over your backpack's straps. 

Attach the end of your lanyard after looping it around the skateboard's truck area. 

If you have two lanyards, it becomes much easier to link your skateboard to your backpack.

Take your lanyards and cross them over two of your backpack's straps. 

You should connect the ends of both of your lanyards. 

Ensure the skateboard is placed horizontally, and the lanyards should be looped through each wheel.
Using Laces, Ropes, or Pins to Attach Skateboard
It is also suggested to use laces instead of using lanyards or any other type of rope. 

Two buckles or laces should be fastened; one buckle to your bag and the other buckle fastened to the top of the board. 

To stop the loop itself from slipping down the backpack over time, tie another knot with the already-tied laces around the bag's top handle. 

If you have various items like pins, ropes, straps, lanyards, and more, you can simply hold your skateboard with them.
Use the Deck Hook
You can use a deck hook which is a piece of metal that is made for your skateboard trucks to hook and loop around the backpack straps. 

If it comes with a small wall mount, Attach it to the rucksack's inner side. 

Simply undo the lock loop and nylon straps around your bag straps. 

Take your skateboard and use the deck hook to attach it to the side. 

The deck hook attached the skateboard firmly. 

Now, you can easily attach and detach the skateboard whenever you need it. 

As an alternative, you can use an old belt to attach to your backpack for carrying a skateboard.
Try Screw System
The screw system involves inserting two screws into either side of the board. 

You then fasten these screws onto your backpack using either a buckle or a strap.

Keep the board in place even if you're jumping or doing tricks.
Attach Skateboard by Using a Suction Cup System
You can place the suction cup at the board's base. 

The board is placed on the suction cup, and the other end of the suction cup is attached to the backpack. 

During any jumping sessions, there will be no movement after attaching the suction cup system.
Use Cords to Attach Skateboard
You might miss having any attachment points, so bring cords to attach your skateboard. 

You can keep a couple of bungee cords that are like long nylon-cased rubber bands. 

The cords should be tied opposite to the bag. 

Make sure the board's wheels are wrapped in the cables. 

Place the cords vertically on the back of your bag and then cross them over the skateboard. 

To secure the skateboard or penny board, firmly attach it.
Some Alternatives Ideas to Attach Skateboard Backpack!
The conventional advice for carrying a skateboard is to take it with your hand while it's not in use. 

If you don't prefer any of our given ideas to attach skateboard backpacks and have money to invest, you can simply purchase a backpack with attachment systems. 

Get a bag that has more space to attach a skateboard or penny board. 

Clean your skateboard after riding so that it won't ruin your clothes or other accessories. 

Put it in either of the backpack's corners. Zip up the bag with a skateboard to keep your bag secure.
The Advantages of Skateboarding With A Backpack
You can comfortably travel and move anywhere. 

Your hands become free of anything to hold. 

Carrying the skateboard in a backpack is convenient when cycling or driving.

Since it isn't too weighty, it is convenient for getting a comfortable ride wherever you go. 

Carry the board and ride wherever you want!

Also, skateboarding with a backpack is a sustainable choice that lowers pollution and traffic in cities. 

Carry it instead of traveling on public transport or in any other vehicle. But make sure you become a professional skater.
The Disadvantages Of Skateboarding With A Backpack
If you don't secure the skateboard with the bag properly, it may fly out of your hands and damage the board. 

When traveling with a skateboard or penny board, you may occasionally buy a large bag or skateboard that makes it difficult to hang around, and you cannot enjoy a skillful ride when you travel. 

Additionally, carrying extra weight for an extended period of time can make your muscles uncomfortable and even hurt. 

Sometimes you cannot reach necessities like your phone or other accessories. 

When riding a skateboard on a hard surface, the noise it generates can disturb other people.
FAQ!
1. How to place your skates in your skateboard backpack?
Simply use the board clip or straps of the bag to attach the skateboard to the place where you skate. The convenient way is to attach the board to the back of the backpack.
2. Can you skateboard with a backpack?
Yes, you can carry your skateboard with a backpack by attaching straps or clips to the bag. But make sure the skateboard or backpack is not too bulky.
3. Can A Skateboard Fit Inside A Backpack?
No, the entire skateboard won't fit inside a backpack. Rather, you can use a duffle bag to keep the board inside.
4. How do you carry a longboard in a backpack?
Use a padded or cushioned bag to pass the board across your shoulder straps with the bottom of the deck against your back.
Also Read: Volador longboard review
Wrapping Up
So, we have shared the best ways How to Attach Skateboard to Backpack. If you are a professional skater, you should know how beneficial carrying a skateboard bag is! If you need to attach your board, you can follow our given advice.
We hope this article has given some effective basic knowledge about attaching skateboards to backpacks. If you find it helpful, share your precious comments and let us know what you expect from our upcoming content.
Hi, my name is Gabriel. I am completed my MBA from private university and my subject was IT (Information Technology) and also I complete my graduation form South East University and Department from CSE (Computer Science & Engineering). I am author and blogger of this website who loves to write about different topics that are related to the board sport. From beginner tips to intermediate advice, I want to offer you quality content that will help improve your skill set and make you a better rider. Thanks for checking out my site!